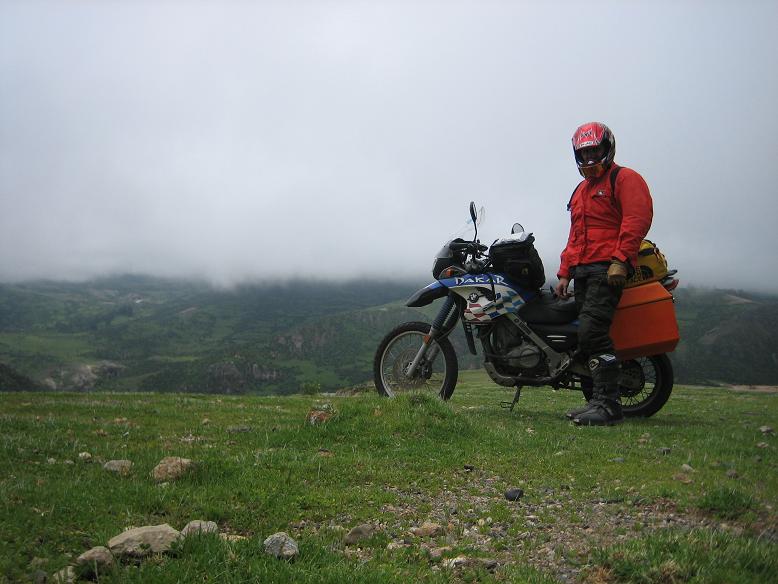 High on the Altiplano, Peru.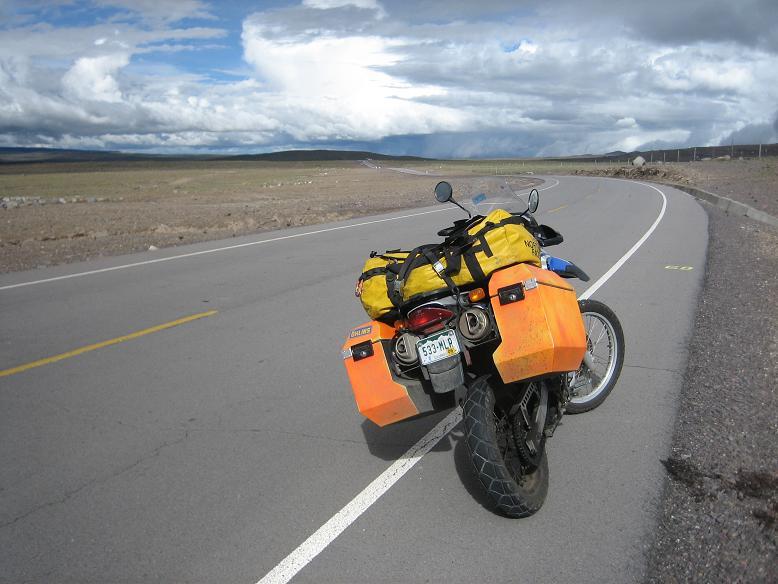 Cold, wind and intense sun. 14,800 feet on the Peruvian Altiplano. This is higher than any mountain in the lower 48 States. I saw no other vehicles on the plateau. En route to the Sacred Valley, Peru.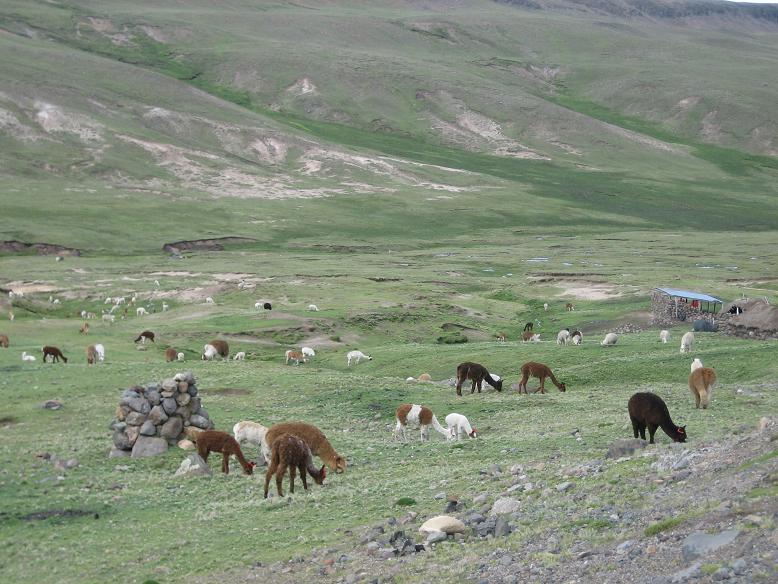 Llama and alpaca on the Altiplano (alpaca are tastey!).
Much to my surprise (and disappointment) Peru ranks as the least enjoyable country of the trip. The pollution is rampant. In the coastal desert untreated garbage was dumped along the side of the road. Trash could be seen blowing across the desert for miles. Outside one large city I rode through the piles of trash for over 30 miles. In the mountains people carry their trash to the nearest river and toss it in. Even in the Sacred Valley I watched with a genuine sense of sorrow as any garbage that could float bobbed its way toward the ocean. The river banks were covered in plastic bags and refuse.
I spent 3 days riding through the Peruvian coastal desert. Prior to my arrival here I was unaware that Peru contained a desert! There were large dunes along much of the road. A stiff wind off the Pacific sent much of the sand against any part of my exposed skin. There were virtually no services along the way. My fuel-low light came on once and gave me a scare. I finally reached a gas station with only 20 or 30 miles of fuel remaining (the fuel caution light indicates roughly 60 miles of fuel remain).
Lima turned out to be quite an oasis for me- though most of the cities 8,000,000 residents live in desperate poverty. I rode through roughly 30 miles of trash strewn slums before arriving in the affluent area known as Miraflores. There, I was lucky enough to chance upon Miraflores House. A sign outside the hostal read, "Feel as home." It was close to the truth. The owner, a Peruvian named Francis, is friendly and welcoming. When I asked where I could buy various things for my jouney south, he put me in his BMW and drove myself and another fellow all over Miraflores and Larco Mar to purchase whatever we wanted. He was proud of his city and I could see why. There are many beautiful areas in Lima. Larco Mar sits atop a cliff overlooking the Pacific. It is a setting similar to San Fransisco, absolutely beautiful. Paragliders work their way along the cliffs. There are parks, cafes, restaurants, etc. I had planned to spend one night here, I stayed four. Francis takes a picture of every guest and puts them on various walls in the hostal. There is one of me on the Biscuit somewhere in there now. When I left I thanked Francis for all his help. He replied, "I'll be waiting here for your return." He then walked into the road and stopped the heavy traffic so I could leave. Great guy.
The ride from Lima to Nazca was a fast one on good pavement. There were plenty of nice beaches along the way. When I reached the Nazca lines I decided not to take a scenic flight and settled for climbing an observation tower. Having spent some 10,000 hours of my life in the sky, I was more than content. Nazca was a pleasant enough town. Due to the Nazca lines it sees quite a few tourists and boasts its share of the usual watering holes and restaurants with menus in english, and of course, higher prices.
With a sense of excitement I left Nazca for the Sacred Valley and the town of Cusco. This would mean crossing the Altiplano. I had all my cold-weather and rain gear handy in anticipation of a rough ride. The climb up onto the Altiplano was long and filled with many curves and sweeping views- once again, impossible to capture with my camera. Before long I rode into the clouds and a cold, steady rain. There was no traffic. The Altiplano itself is a spectacular place. I passed through only two small villages along the way. Thousands of alpaca and llama populate the plateau. I was told later that the climate there doesn't support cattle, so..."alpaca- it's what's for dinner!"
It took several days to reach the heavily touristed town of Cusco. It's a nice enough place, it just tends to be a little pricey for Peru. I hadn't seen so many gringo's in a long time. My guide book mentioned a bar named the Norton Rats. I wondered if the name reffered to the legendary English motorcycle and decided to have a look. Upon entering the the place I was pleased to see the walls festooned with Norton photos. After a conversation with one of the bartenders, I found out the owner was an American who had ridden down here on his Norton years ago. I told the fellow I too had ridden down from the States. Before long a smiling man walked into the bar and spoke briefly with the bartender. They both turned towards me. Jeff walked over with a big grin, we shook hands and settled in for a long night of bike/travel talk. At 2am Jeff sent the staff home and opened the little door to the bar and told me to drink whatever I wanted. We stayed there swapping stories of our travels until 5am. It was a great night.
The most common way to get from Cusco to Machu Picchu is the 6am train. My airline days behind me, I chose to ride the bike as close to the ruins as I could rather than suffer the indignation of an 0515 wake-up call! After spending a frustrating hour trying to get out of Cusco, I started into the Sacred Valley. It is a place of indescribable beauty. One vista after another. As I rode through the valley I spotted a heavy bike in front of me. I thought I might have found a southbound rider- but there was no luggage or even racks to carry gear. Disappointed, I passed the bike and waved. It was a Harley-Davidson, the first I'd seen since the US. The bike and its two riders suddenly accelerated and pulled up beside me. They were smiling and beckoned me to follow them. I'm glad I did...
We soon left the road and turned onto a gravel track. After riding through a creek (a foot or so deep) we arrived at a palace of a house next to an even larger hotel. We all shook hands and made the introductions. The two were married and owned the hotel. He was Antonio and she Marcella. It was quickly established that Marcella and I spoke english together, Antonio and I spanish. They invited me into their home, offered me a beer and said I could camp in their garden or stay in their hotel for cheap-cheap. Lunch, they said, would be ready soon and a special dinner was being prepared. It was only noon and I wanted to see Machu Picchu the next day, but I knew this was a "keeper."
Dinner was already in the ground. One of the most celebrated chefs in Peru was there visiting and he had put together an incredible dinner. Chicken, beef and pork had been buried in the earth (it's an underground BBQ of sorts) with maize and other vegetables and a variety of hot Andean spices. After a ceremony blessing our future meal and thanking the earth for her bounty, I went up to "help" Pepe with the grill and act as court jester. I wasn't sure if Pepe spoke english or not when I arrived grill-side. As he was putting chicken on the grill he turned to me and said- in clean english- "let me tell you something man, you are in good f#cking hands!" Having just met these people I was reluctant to take alot of photos. Enjoy these two...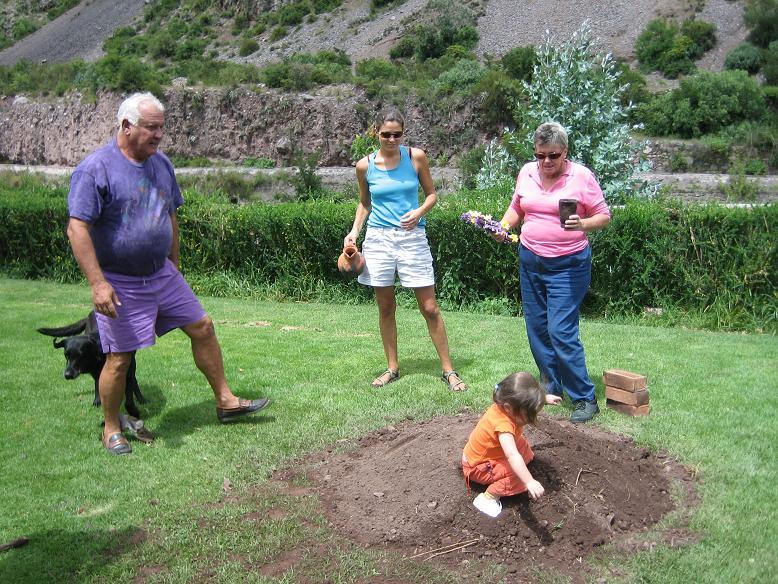 Antonio to the left, Marcella to the right. Antonio's daughter-in-law in the middle. As I took this picture Antonio's grand-daughter jumped on the dirt mound covering our dinner, fearing the dirt was hot, Antonio snatched the bewildered little girl off the mound in less than a second. Antonio was petting the dog a split second before I took this picture, he quickly abandoned the dog- his left foot can be seen starting the mad rush for his grand-daughter- the dog was as surprised as the rest of us! Antonios daughter-in-law holds a pitcher of fermented maize. Marcella holds in one hand a flower covered cross which would be placed atop our meal to bless it, and in the other an ancient wooden mug from which we all drank in honor of this dinner. Sacred Valley, Peru.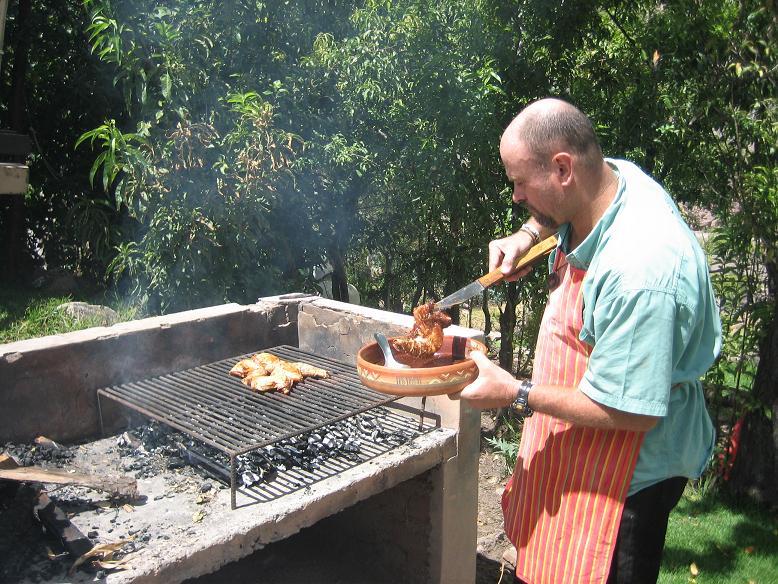 Pepe starts to load the grill. Sacred valley, Peru.
After departing the Sacred Valley I made my way to the town of Puno in 6 hours. This would be my last stop before entering Chile- or so I thought. Departing Puno early one morning, I quickly left the urban sprawl and found myself completely alone. This was as remote a ride as I've done yet. There were no shelters or structures of any kind- and no traffic. I could see several large thunderstorms ahead and could only hope the road wouldn´t lead me into them. The road climbed steeply up onto the Altiplano. The GPS showed 14,800 feet. It also showed we weren't on a known road.
As luck would have it, the rough road lead me straight into a massive cell. I knew I wasn't going to ride into it- heavy rain and plenty of lightning eliminated that option. I stopped and looked towards Puno. Large cells had now formed behind me. There was nowhere to hide. I had been caught out. Suddenly hail begain to fall- it was already bitterly cold and windy. I swung the bike around and began the ride back to Puno. My hope was to get off the Altiplano- I felt if I could descend 5,000 feet or so it would at least warm up a little. If the bike broke down here, I was finished.
The hail continued to increase in size and quantity. I realized that storms were now forming overhead. The hail was finding it's way to the part of my face beneath my goggles. It was like being shot by a BB gun at close range. Several times I winced from the pain and was struck in the teeth. I held my left hand over my face as much as could- but when the road got rough I needed both hands on the grips. It was a terrible hour or so. Snow was blowing across the road, rain sometimes mixed in with the hail. I shivered badly and kept thinking of the hot shower that awaited me in Puno. Getting off the Altiplano didn't help as much as I had hoped. I was wet and somewhat pre-cooled at this point.
When I arrived back at the hotel the staff were smiling. When the doorman came out to see me he knew I was hurting. My lips were blue and I was still shivering. The lower part of my face was red from the hail beating. He summoned the rest of the staff who quickly removed my gear and got me to my room. They then prepared a large cup of coca tea. Actual coca leaves are packed into a cup of hot water to steep- it picked me up. A hot shower and good meal ended a rough day. The Andes had kicked my ass! The next day I decided to try "plan B" and headed for Bolivia. I would try to cross the Altiplano via a different road. Turned out to be a good choice.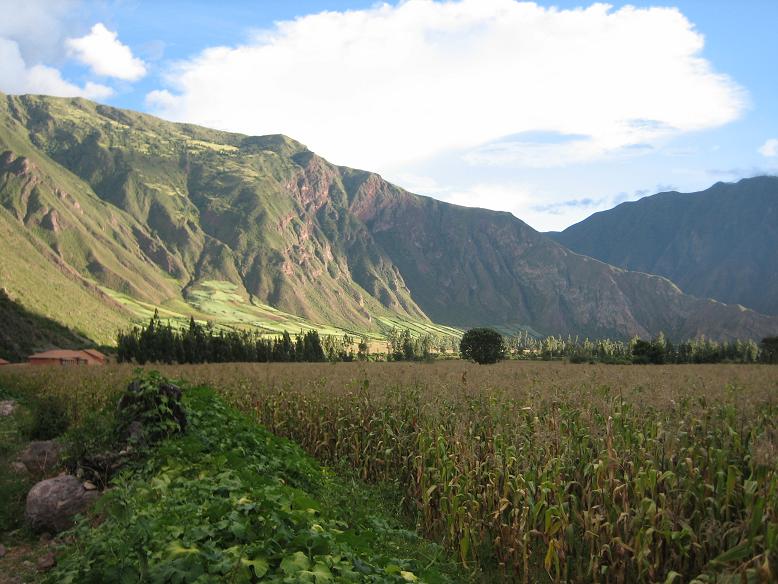 The sun sets on the Sacred Valley. The roof of my hotel is on the left. Peru.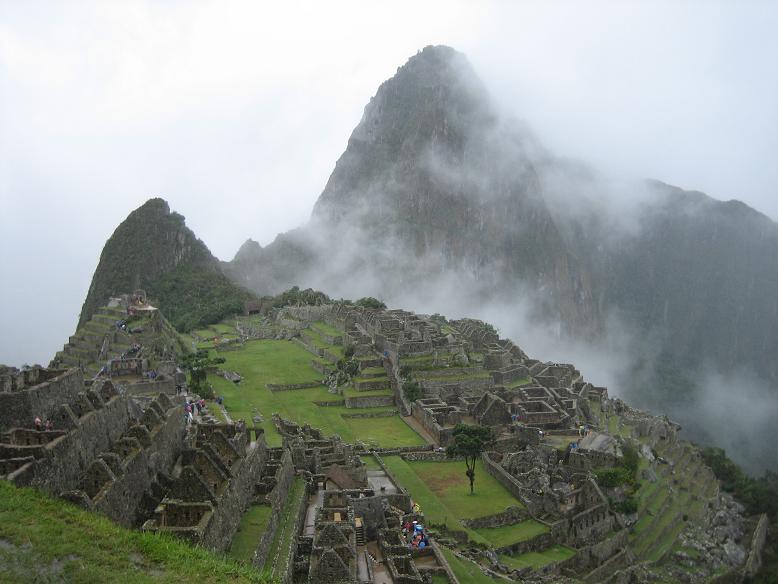 The definition of the word...spectacular!