The Biscuit and I at Lake Titicaca, Bolivia in the background.
Two days after failing to reach Chile, I found myself in the pleasant little tourist town of Copocabana, Bolivia. It's been raining here for the last few days so I've been enjoying the large variety of restaurants and cafes. Tomorrow I plan to make another attempt on the Altiplano. I´ve taken on 3 gallons of drinking water, two days supply of food and two gallons of fuel- this gives me a range of roughly 450 miles. This should do the trick. After crossing the Altiplano I'll have to cross the Atacama Desert as well. The Atacama is the driest desert in the world. Large areas of this region have never recorded rain. It will help to have spare supplies to get through both of these places...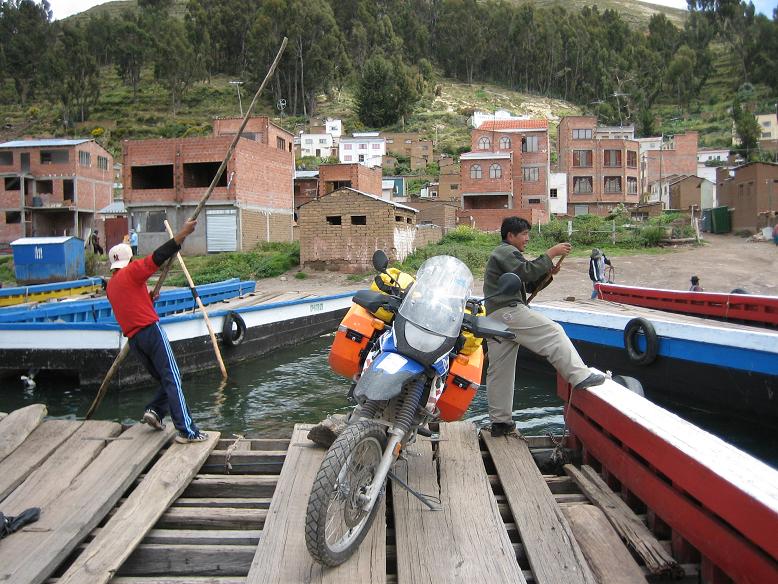 Crossing Lake Titicaca en route to La Paz. There is no bridge in the area so I hired these friendly guys to get me across. It took about 25 minutes and cost $1.50usd. Lake Titicaca, Bolivia.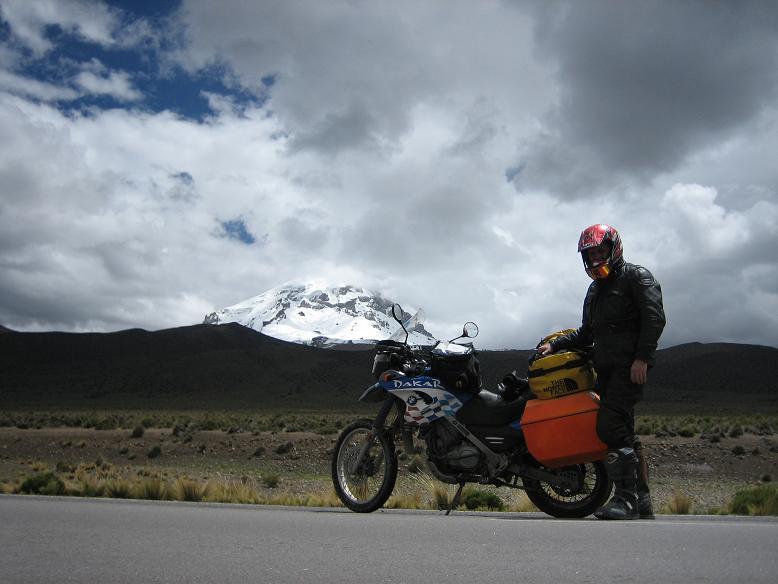 High, windy and cold... in the background, one of several 18,000 foot peaks on the Altiplano, western Bolivia
It took over a week- and two attempts- to cross the Altiplano westbound. I was stopped again by large storms on the shores of Lake Titicaca. Here, I would enjoy one of the finest trout dinners of my life. The next day I awoke at 0500 and crossed into Chile after a 12 hour ride through: rain, hail, snow, frozen rain, high winds and an often burning sun.