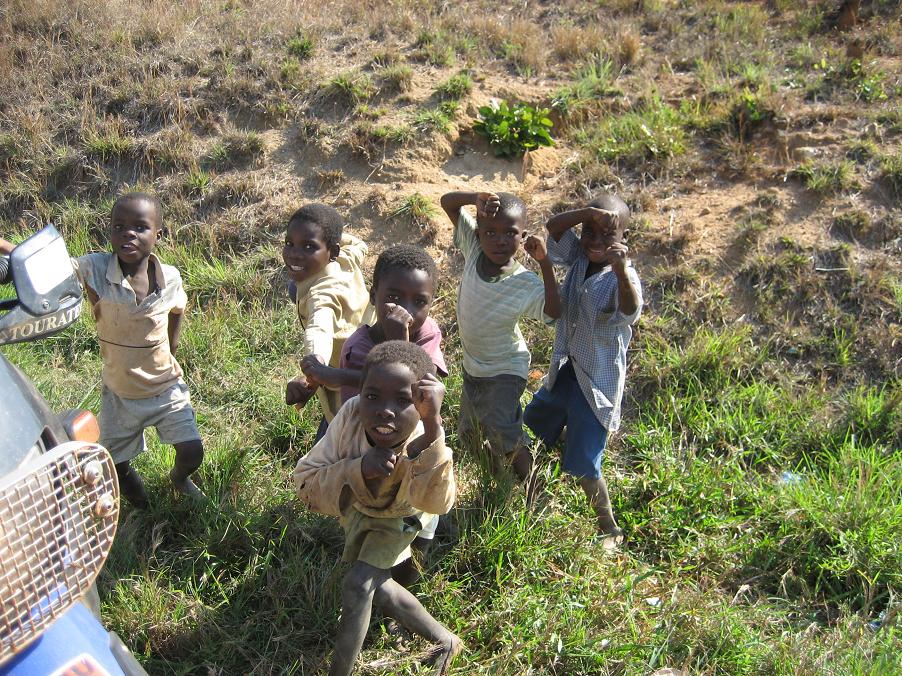 Children in Malawi give me an "action" pose!
Malawi: A country of surprises.

Crossing from Zambia into Malawi took nearly an hour and involved the usual 4 or 5 stops. Within minutes I knew the people of Malawi were even friendlier than those in Zambia. On the road to Lilongwe, thousands of people smiled and waved. The country had its own unique sort of vibe. Malawi is one of Africa's poorest countries, but in time I would come to learn, one of her richest.

At the Zambia/Malawi border I encounted two retired South African police officers. They had retired in Zambia and gave me a great deal of information about Malawi in a short time. Once again I was travelling without a guide-book, relying on local people for my information. Thanks to the retired officers, I found a great hotel and settled in for a few days of rest in Lilongwe. I was low on US dollars again, and was able to stock up here in the capital.
At a cafe I met a friendly Englishman named Andy. He had purchased a car in South Africa and had planned to tour southern Africa extensively. His plans didn't quite pan out. He was utterly burned out with his trip. He disliked the drive from Lusaka to Lilongwe, and felt the truck drivers were too dangerous. Andy was also feeling worn down from Africa as well and, when I met him, he simply wanted to sell his car and head home. We chatted for a while and decided to visit the local market to pick up some clothes. This proved interesting as it wasn't a traditional covered store or market. They had most everything under the sun. It was interesting to find hundreds of used US T-shirts. USAid is big in this part of Africa, and it was obvious the shirts in the market were donated by US citizens. Shirts embazened with the likes of "DOOR COUNTY," and dozens of high schools and colleges could be found. Some of them are hilariously out of place here in Africa. People of the US, keep 'em coming- the folks here appreciate it!
After an hour at the market we headed off to my hotel for a beer. As we crossed a bridge I spotted two long-distance riders stopped, looking at a map. They were both geared up, helmets and all. I asked Andy to stop so I could talk with them. "Do you know those guys?" he asked. "No, but I will in a minute" I answered. I was excited to see other riders- the first two long-distance riders I'd seen on this continent. I approached the two and asked where they had come in from. One of them then said, "long time, no see." I almost fell off the bridge when I realized it was Mike and John- whom I'd had dinner with in Capetown months ago.
So after two months on the road, they in eastern Africa, me in the west, our paths intersected on a bridge in Lilongwe. Incredible. I was thrilled to see these guys. We enjoyed dinner and drinks in my hotel that night, got caught up on our travels, and the two were kind enough to invite me to ride with them northward. I liked Malawi more each day! Little did I know, Malawi was just "warming up."
Mike, John and I left Lilongwe the next day, bound for Nkhata Bay. The ride was a beauty. We rode for some time on a dirt track that led through some interesting areas with tiny villages scattered throughout. Along the way we stopped for lunch in a fairly rugged little town. John and I stayed with the bikes as Mike poked around for some grub. He returned in a few minutes and we moved the bikes to a divey little restaurant. We sat on a shady porch and attempted to place our orders with a waiter who spoke little english. In the end, we all enjoyed a delicious stewed beef dish served with plenty of rice. It was a nice lunch, costing some $2 or $3usd for all three of us.
We arrived in Nkhata Bay just after dark. A young man met us in the town center and offered to show us to our hotel, Njaya Lodge. The ride up the hill was somewhat rough- and fun. Njaya Lodge is owned by an expat Scotsman. It's a beautiful place with a fantastic staff. The property overlooks Lake Malawi. Mike and John camped for $3usd each, while I took a private bungalow for $25usd. I spent my days there on the beach, swimming and taking in the sun. All three of us were feeling the cummulative fatigue of many months on the road. It was a nice break for us.
After Nkhata Bay we decided to visit Livingstonia, near the Nyika Plateau, in the northern part of the country. Livinstonia is a mission named after Dr Livingstone, the Scottish missionary who so despised slavery. The village was named after Livingstone, who never actually visited the place. We all enjoyed the ride there. There were plenty of sweeping views and winding roads along the way. If we stopped by the side of the road in the vicinity of a village, we were mobbed by enthusiastic children who wanted to see and touch us. I must say, the children of Malawi are unlike any I've seen in the past year (just look at the photos). Perhaps it's just because we were off the beaten track, far away from places touristed. The road leading up to Livingstonia had its share of rough spots. I was following John when he took a spill on some fist sized rocks in a sharp, uphill curve. He adeptly managed to get clear of the bike and suffered no injuries. The two of us righted the bike and we were again on our way. Several hundred yards up the road Mike was waiting for us, curious about what we had been doing. These two are a great team, and I was pleased to be riding with them.
After poking around Livingstonia, we settled into an eco-camp perched on a hillside with an awesome view. This place was run by an expat American couple. The camp is self-sustaining. The toilets are composting. The fertilizer is used to feed the plants on the property. Biodegradable soap is used in the showers (captured rainwater), used shower water is then used to water the plants. Hot water is provided using firewood from a special garden yielding fast-growth wood. Each night a fire is built from this same wood. It was wonderful to sit around the fire each night, drinking warm Carlsberg and talking about the world. There is no electricity in the camp, so the staff provided us with kerosene lanterns. Our tiny thatched bungalows didn't have doors, only a piece of canvas that could be closed to give some privacy. At times the roar of the crickets seemed deafening.
We spent two nights in this simple, beautiful camp. On the second night we ate a nice African chicken stew. Chicken dishes have to be ordered some 4 or 5 hours in advance, because without electricity, the chicken must be (trully) fresh. At lunch on our second day, a man was dispatched to what we called "the petting zoo." We watched through the trees as a white chicken frantically flapped her wings before meeting her untimely end for the sake of our delicious meal that evening.
On our second day there, Mike and I went on a beautiful ride through the mountains near the Nyika Plateau (John was tired and stayed in camp to rest up). We rode through some rough terrain, sometimes on what appeared to be very sloppy footpaths. It was a fantastic day of riding. The children were often cheering and even chasing us. There were sweeping vistas of Lake Malawi and the many mountains of the area. It felt great to be rid of our heavy gear and free to blast along the dirt tracks of the region. At one point we encountered a man pulling a bike up a steep hill. On the bike was a heavy bag of maize. Mike was able to load the bag onto his bike and we dropped it off in Livingstonia, saving the man a great deal of work.
The next day we rode down the hill...and into Tanzania.