The bike and I have both changed along the way. The Biscuit at a lodge in Grootfontein, Namibia- ready for the ride north.

Getting ready for a long ride? My bike and I have travelled more than 40,000 miles since leaving home- here are a few things I've learned:
1) Too many riders spend too much time fretting about which tires to run- I should know, I was one of them.
2) Neoprene fork boots don't look as "sexy" on the bike, but do a better job than the bulkier plastic boots. The neoprene are better at keeping out dirt/dust/mud and allow more air-flow over the engine/radiator.
3) It's a good idea to protect your rear shock from dirt/dust, etc. You can do this with a simple piece of inner-tube wrapped around the shock (pic below). IMPORTANT: if riding on rough roads in high temperatures, this mod will ruin the shocks's seal due to heat build up. When operating in high temps it is important to leave the rear side of the shock exposed to allow the shock to stay cool.
4) Jesse panniers are up to the task. Before my trip I felt the locks were flimsy- I was wrong. These bags have taken a serious beating. I carry a hammer to pop out dents (Jesse does not sponsor me).
5) Touratech makes some good mods, and some flimsy. The chain-guard is flimsy. I bought it mail order, had I felt the weight/strength of the thing in a store, I wouldn't have bought it (pic of repair below).
6) When riding in some 3rd world countries, you'll have to burn leaded fuel. Do yourself a favor and mod the fuel inlet. "Fuel showers" occur from time to time when a fueler gets distracted while fueling an "unleaded" bike. Someone says something to him/her- they look away, thus moving the nozzle a bit and BOOM, fuel flies all over the place. Leaded fuel pumps have a wider nozzle to prevent them from fueling unleaded vehicles- which have a smaller fuel inlet. On the Dakar, simply remove the 6 screws from the fueling point. Remove the inlet and saw off the reduction (pic below).
7) Don't bother with the Touratech engine guards. The BMW tubular steel cage offers more protection. The Touratech engine guard (on the left side) offers little protection, if it were to break, it could easily crack the case (in fairness, I haven't heard of this happening).
8) "Hard wire" a spare clutch cable in place. I haven't needed it, but it's nice to know it's there. Use tape to seal the ends to prevent entry of dirt/dust.
9) Make sure your bike has a center-stand. It makes fixing flats/lubing the chain, etc, alot easier.
10) July 2007 update: my Ohlins shock was broken in Africa. It cost 411euro for Ohlins to repair it. Needless to say, I'm not thrilled with Ohlins at the moment. The riding in Africa was tough here and there, but I expected the shock to handle the ride.

11) My favorite tire so far: the Metzler Tourrance steel radial (the German tire- not the Brazilian). I put plenty of miles on these tires on asphalt, mud, sand, dirt, gravel, corregations, etc. They really do hold up well. A very fine tire. The Sahara 3 is also a good tire with a more agressive tread.
12) I installed a stainless-steel brake line up front, no problems.
13) Get a sealed (gel) battery. If you're tearing it up off-road, you'll dump the bike more than once. In Africa you'll probably ride through 110/120 degree temps, this can cause the battery acid to ooze out as the liquid expands due to the heat- not good.
14) I installed Touratech progressive springs in the front, I can't say I notice a big difference.
15) Increase the size of your kick-stands footprint, it'll help a great deal when you leave the pavement.
16) I installed the larger Touratech foot-pegs and am very pleased with them.
17) Three times on my trip I have needed more fuel than my bike held. A friend of mine helped me out once. The other two times I was covered by a mod made by my friends at Dakar Motos, in Buenos Aires (pic above and below). www.dakarmotos.com
18) No mods are required for the Dakar with regards to using leaded fuel. I've used leaded fuel for thousands of miles without a problem. The cat converter may be damaged, but the bike runs fine. With regards to the EFI, it is designed to fail in a set mode (less efficient than when working properly, though still very functional). Don't fret about the EFI- bad fuel and all.
19) I ride with a Wolfman tank-bag, made in Colorado. It is well made and very useful. In it I carry a lightweight rain-coat, sun lotion, camera, water, tire pressure gauge, maps, insect repellent, etc. It's great to have these things handy. Be sure to bring spare male clips as they will break due to UV exposure and rough use over time. I have needed 4 new clips so far.
20) I carry a North Face duffel on the back of the bike. It is remarkably durable- and has been seriously abused/overloaded. It has shoulder straps that make it easy to carry. At the end of the day, I simply remove it and sling it over my shoulders, remove my tank bag and head into the hotel, helmet in one hand, tank bag in the other, one trip ease...
21) I had a Scottoiler installed in Stuttgart. It didn't stand up to the roads in Siberia: somewhere along the way the lubricating tip broke off. BMW Seoul was kind enough to fix the oiler at no cost. Many thanks to Hockenheim BMW!

22) I installed radiator protection in Stuttgart as well. The radiator was beaten up somewhat in Africa.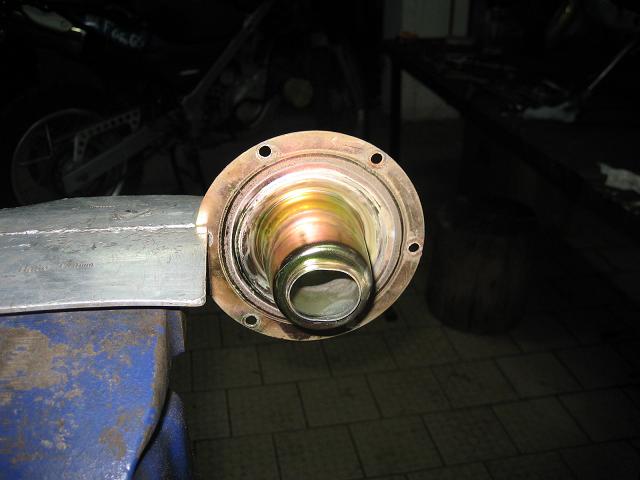 The fuel inlet reducer from the inside out- just saw it off.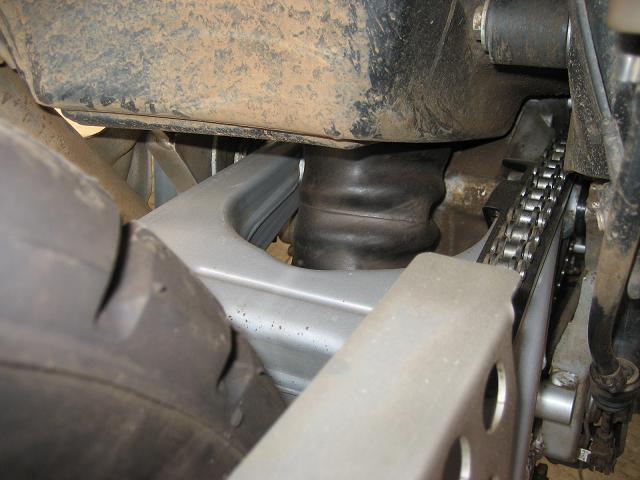 The Ohlins rear shock covered with an old inner-tube.
Repairs made to a flimsy/broken Touratech chain guard.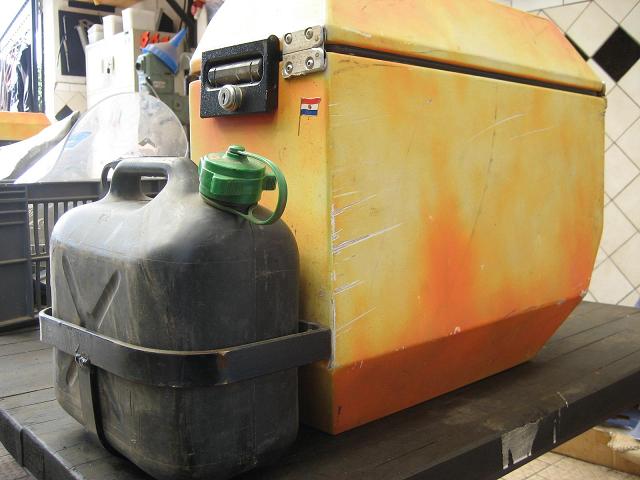 Javier (of Dakar Motos) added range to my bike with two of these 5 liter tanks.
Some important bike related websites:
www.horizonsunlimited.com : A great resource for long distance riders.
www.f650.com : The best technical website for F-650 riders.
www.advrider.com : A site for riders of most kinds.
www.touratech.com : Plenty of aftermarket parts here!
www.skype.com : Going on a long trip? Figure this out and save $.
Tool kit: set of torx wrenches, set of allen wrenches, set of open ended wrenches, socket set, medium and large adjustable wrenches, needle nosed pliers, regular pliers, medium vice-grip, socket for the oil drain plug (24mm), aerostitch titanium tire-irons, Touratech alloy tire-iron/rear nut wrench, screwdriver with interchangeable tips, 16oz hammer for popping out dents in the Jesse's, standard BMW under the seat tool kit- which I have yet to open on this trip!
Spare parts/gear: spare inner tubes (1 front and 1 rear), a patch kit, a valve stem remover, can of fix-a-flat (as a precaution), spare air and oil filters, spare iridium tipped spark plug, spare pressure regulator/fuel filter, spare brake/headlight and blinker bulbs (I am on my third brakelight), liquid metal (for a cracked engine case, etc), tube of blue locktite, electrical and duct tape, spare accelerator and clutch cables, spare brake and clutch levers, hose clamps, chain lube, spare master link for chain, WD-40 type lube I bought in Namibia, spare fuses, bike cover to protect against rain/sun/dust, spare brake fluid, distilled water, coolant, engine oil, radiator stop-leak, full extra set of keys in my main duffel bag. I put fragile items like bulbs in cheap tupperware containers and topped them off with shop rags to protect against breakage, this has worked very well.