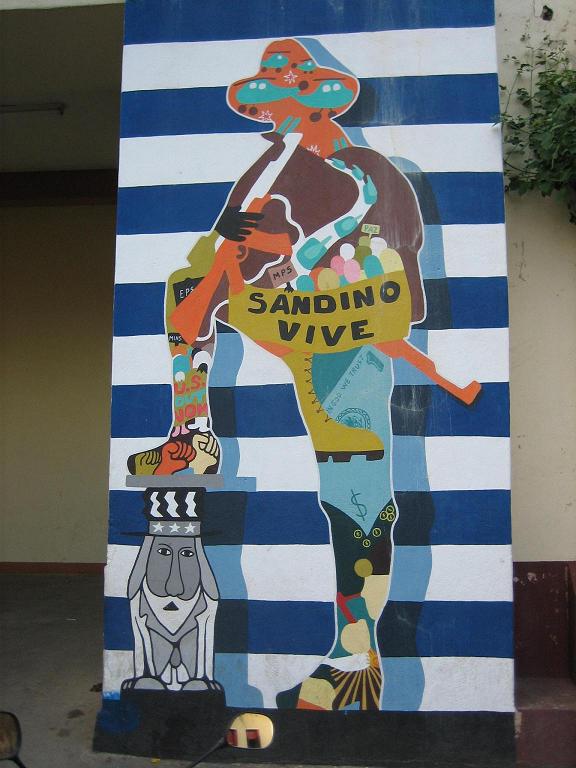 The failed revolutionary, Sandino. Leon, Nicaragua.
The border crossing from Honduras into Nicaragua was the crossing my Mother warned me about. As I approached the Nicaraguan border I was swarmed by dozens of people asking for money for a variety of things. As none of the people were armed, I kept the bike rolling until the crowd grew too thick- and more brazen. Soon I was at a standstill under the burning rays of the late morning sun, and began to shed the heaviest of my body armor and leathers.
Despite the fact they were literally grabbing both myself and the bike, I refused to answer the shouts of the tramitadors. Slowly, I removed my gear, including my earplugs. I told the boys to settle down and began to negotiate with one who won me over. He had a quiet way about him, and bright, smiling eyes. After more than 2 hours in the heat my guy got me out of Honduras and into Nicaragua for the usual fees, plus an obvious $20 bribe to an official who claimed I lacked certain stamps in my passport. I paid the bribe and was on my way. The bribe was originally $100- I should have refused to pay anything. They know when you're tired and want to move on. At long last, I was allowed to enter Nicaragua. It proved to be worth the wait.
The roads in Nica were in fine shape. I rode through seemingly endless fields of sugar cane. There seemed to be steep-sided volcanos everywhere. Beautiful lakes and rivers dotted this gorgeous country. Every river had children swimming and people doing their laundry in them. It was a fun ride.
After some fine riding I arrived in the colonial town of Leon. A beautiful place indeed. It was hard to find a room in Leon. Turns out it was Semana Santa- a week long religious holiday. When I emerged from a store, two Germans were looking my bike over- they were stunned when I spoke Swiss German to them. We went to the town square and enjoyed some Nica beer. One of the fellows was living in Nica. He produced a cell phone and began making calls. Within 30 minutes my bike was parked in a safe garage at a pleasant little hostel. The owners father was a retired pilot with 35 years of his life spent flying. We had alot to talk about.
Semana Santa may be a relgious holiday, but it is celebrated with fireworks. For 3 days, throughout the city, fireworks exploded around the clock. As we sat in a restaurant one evening, quarter and half sticks of dynamite were produced in the bar area. A group of intoxicated men moved to the door trying to light the fuses. I nervously moved to the back of the bar. When these ¨bombas¨ detonated in the street, the windows shook. The entire bar reverborated with each blast. Incredible. The whole fiesta culminates late one evening when everyone tosses out everything they've got over a two hour period. The streets were filled with thick, acrid smoke. Quite an experience.
Departing Leon, I began to make my way towards the beachside town of San Juan del Sur. The ride was just incredible. I was high on a plateau and could see the Pacific Ocean below, far to the west. Terrific views the whole way. As I neared San Jual del Sur I rode near Lago Nicaragua. At first I thought it was the Gulf of Mexico- my map cleared up that misconception. Large waves were pounding the shore, and in the distance I saw more volcanos rising out of the lake. There wasn´t a cloud in the sky, it was perfect riding weather.
San Juan del Sur was an idyllic little place. I checked into a hotel right on the beach and headed over to Big Wave Dave's for great food and drink. My spirits were high now. Costa Rica was only some 20 miles away. The tough riding was behind me for now. All was right with my world!
The next day I set off for Costa Rica. I was feeling sassy for some reason. I lashed all my heavy gear to the back of my bike. I departed San Juan wearing only boater shoes, cargo pants, a short sleeved shirt and sunglasses. It felt good to be out of all that gear. I blasted along Lago Nicaragua with a smile on my face. It was warm and absolutley gorgeous. My goal of Costa Rica was soon realized.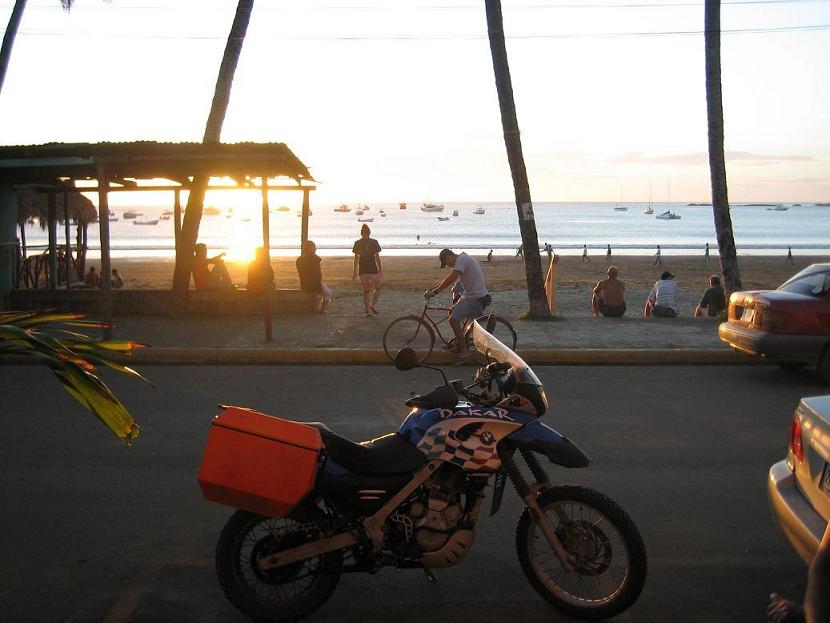 Near the Pacific. San Juan del Sur, Nicaragua.